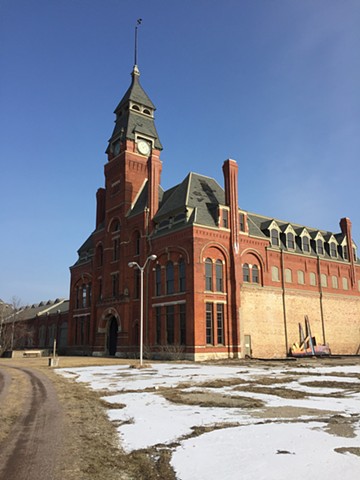 Pullman historic factory site–a temporary studio for Sounding Bronzeville: a commission from the Chicago Park District & the Field Museum
In January I kicked off a commission for the Chicago Park District and The Field Museum entitled Sounding Bronzeville. which debuted in June 2016 as part of the Great Migration Celebration this summer in Chicago. Our team of eight includes: designer, Norman Teague, design associate Chris Buchakjian, architects Mike Newman and Monica Chadha, landscape architect Nilay Mistry, furniture maker and willow expert Dave Chapman, and Larissa Johnson and Paula Robinson of the Bronzeville Community Development Partnership. We built "green," living sculptures made of willow to create one of five community gathering spaces in the Burnham Wildlife Corridor near Lake Michigan.
Our project correlates the migration of people and wildlife, and the space is programmed to bring the sounds of Bronzeville and the sounds of nature together. Thanks to the folks at the Illinois Historic Preservation Agency, we were artists-in-residence at the Pullman Historic Factory site–our temporary studio in Pullman, a neighborhood integral to Chicago's industrial and rich architectural history.